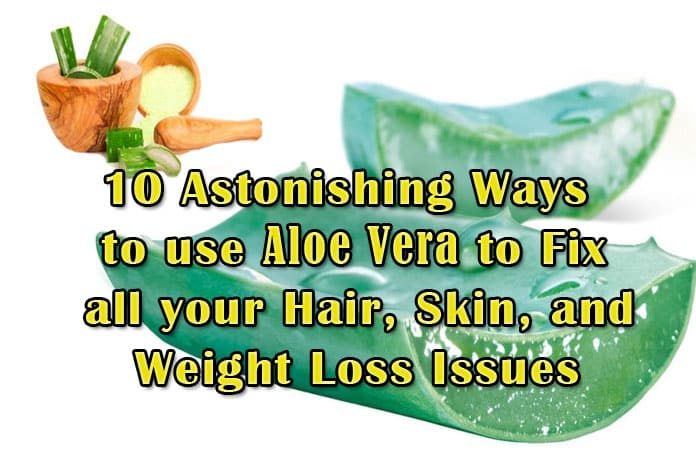 Aloe vera was widely known in ancient Egypt as the 'plant of immortality', it was the generally presented as a burial gift to deceased pharaohs. In modern medicine, aloe vera is known as a miracle cure for several ailments ranging from treating sunburn, slowing the speed of breast cancer, curing diabetes, help in weight loss, as well as in the skin-care industry.
Aloe vera can be taken orally as pills or applied topically on the skin in a gel form. Plenty of home remedies for getting rid of hair fall, using aloe vera, are widely available. In the following guide, we will show you 10 of the best ways to use aloe vera for its curative properties.
1. Aloe Vera to Prevent Premature Aging
Aloe vera is well-known within the cosmetic industry as a primary ingredient in treating wrinkles and maintaining one's youth. This is because aloe vera increases the production of collagen, which is the basic structural component of our skin. We experience lesser sagginess in our skin as well as wrinkles when collagen production improves.
Aloe vera has proven to decrease gene activity within our DNA levels that cause collagen destruction. If taken internally in the form of aloe vera juice, it can provide detoxification to our intestinal tract and clear up toxins. In this way, your skin starts to regain its lost shine and over the course of a week, you will start to look younger.
One of the best home remedies for getting rid of wrinkles is by utilizing the following ingredients
A teaspoon of aloe vera gel for skin
A teaspoon of olive oil
1 tablespoon of oatmeal
You can use instant oatmeal for the following recipe if you like. Mix all the ingredients in a bowl until they form a thick paste. Apply the paste to your face for 30 minutes and rinse. Cherish your radiant glowing skin with regular application.
2. Aloe Vera for Sunburns
If you have been away in the sun for too long without any protection, you're likely to contract painful blisters or redness on your skin – this is medically termed as sunburns. Long term sunburns, if not medically treated, can lead to chronic dryness, melanoma, psoriasis, eczema, and even skin cancer. When topically applied in gel form, aloe vera immediately soothes the affected area.
Aloe vera contains zinc, copper, magnesium, manganese, tannins, germanium, amino acids, and 140 other vitamins as well as trace elements. Aloe vera completely nullifies the burning sensation felt by a sunburnt individual and prevents swelling.
For a quick sunburn treatment – try this remedy. If you have an aloe vera plant, simply cut a portion of the leaf and proceed to apply the liquid that oozes out of it. Massage over the affected area to let the sap form a protective layer over the skin. Within a few seconds of application, you should begin to feel relief from the pain and itchiness.
3. Aloe Vera for Treating Stretch Marks
Whether you belong to a group of recently overweight individuals or you've have recently become a proud mother, there's one thing that's in common – Stretch Marks!
Stretch marks are caused by the skin getting stretched or becoming too loose. They appear red in color and are a cause for concern as they can seem unsightly. Aloe vera can come to the rescue of reducing and diminishing stretch marks. Aloe vera is attributed to anti-inflammatory properties while healing all scars due to its curative nature.
Applying aloe vera sap taken directly from an aloe vera plant onto your stretch marks can get rid of them. Since stretch marks are extremely stubborn, it may take a few weeks before you see the difference. It's always advisable to go for a natural aloe vera gel, rather than a synthetic man-made approach such as cosmetic creams.
4. Aloe Vera for Preventing Hair loss by Deep Conditioning Hair
Aloe vera is an herbal medicinal plant used for centuries as a cure for hair loss. It nourishes the hair and helps maintain a clean and healthy scalp. A hygienic scalp prevents shedding of hair and aloe vera provides the much-needed Vitamin B in individuals suffering from hair fall.
Many clinical studies have proven the significant results of reduced hair fall after using an aloe vera hair mask. Massaging a cream rich in aloe vera promotes blood circulation around the hair follicles and allows the nutrients to be properly absorbed by the scalp. Aloe vera is ideal for hair fall control as it also reduces the sebum generated by the scalp.
For a quick fix to your hair fall and dry hair issues, try the following recipe.
1/4th cup of aloe vera gel
2 teaspoons of honey
2 teaspoons of apple cider vinegar
Blend all listed ingredients in a blender or by whipping it in a bowl. Once you are done mix the ingredients, apply the mixture to your hair, and rinse. The formula is guaranteed to cut down your hair fall ratio by over half within a week.
5. Aloe Vera to reduce Dandruff
Dandruff is caused by dead cells accumulating in the scalp and becoming a full blown fungal infection. They can be characterized by white flaky spots on your hair and can be extremely embarrassing during a social get-together. In order, to completely remove dandruff, you need to clear the scalp completely with an antifungal and antibacterial solution – Aloe vera.
Aloe vera provides deep conditioning to your hair, where shampoos can't reach. Since aloe vera is a gel, it gets properly absorbed by the scalp and cleanses the area of dead cells. It also ensures your hair is conditioned and provides all the necessary minerals for a healthy environment.
Among the best home remedies for getting rid of dandruff is to mix eucalyptus oil with aloe vera gel. Apply the concoction in a paste form to your hair and leave it on for about an hour. After rinsing, you will notice a significantly lower concentration of dandruff. Repeat the process every 2 days to clear your scalp from fungal infections.
6. Aloe Vera for Losing Weight
It may seem strange for aloe vera to be considered as a product to promote weight loss. Hear us out! Unknown to many, aloe vera contains natural anti-oxidants that increase your metabolism and convert carbohydrates as well as fats into energy. Aloe vera ensures that food is stored only for a short duration within the lower intestine due to increased collagen production.
Drinking aloe vera juice is one of the best home remedies for getting rid of toxins and unwanted fat deposits as it acts as a natural laxative. A quick juice recipe to lose weight is to add aloe vera leaves, honey, and lemon juice in a container and stir for 2-3 minutes. Drink the mixture daily for effective weight loss.
7. Aloe Vera as a Moisturizer
During the winter months, our skin requires additional care to combat the freezing weather. Aloe vera acts as a useful moisturizer that prevents your skin from getting flaky and dry. A variety of skin conditions such as skin ulcers, open wounds, canker sores, etc. can be treated by applying aloe vera gel.
For men, aloe vera can be used as an aftershave moisturizer to soothe the affected areas. For an effective way to create your own moisturizer, simply take an aloe vera leaf and peel the outer layer. Once the gel comes out, scoop it into a container and apply as a moisturizer.
8. Aloe Vera for treating Insect Bites
If you've been in the unfavorable situation of being attacked by a swarm of bees or wasps, then you understand the stinging sensation erupting from your skin. Insect bites and stings can be toxic when the toxin enters your body, you end up with itchiness, swelling, and unbearable pain. Swallowing a couple of aloe vera gel capsules or applying the gel from an aloe vera leaf directly onto the affected area can provide relief.
An alternative way is to create an aloe vera spray. Simply combine aloe vera leaves with equal amounts of water and blend them in a blender. Pour the solution into a spray bottle and proceed to spray all over the affected areas to find quick relief from insect bites within a short period.
9. Aloe Vera for Hair Growth
Due to the abundance of amino acids and protein found in Aloe vera, it's the perfect solution to increase hair growth. If you ever wondered about the existence of a magic formula that removes dandruff, clears grime, and smoothens frizzy hair – then use aloe vera for all your hair home remedies.
Aloe vera begins hair growth by first nourishing your hair and protecting it from damage. Every hair growth formula on the market utilizes aloe vera as its main ingredient, although such products are filled with chemicals and other preservatives which are harmful to your hair.
Instead, we suggest using natural aloe vera for hair growth – here's is a simple recipe that you can use to enjoy long and shiny tresses.
4 oz. of water
5 oz. of aloe vera gel
1 teaspoon of coconut oil
The usage of coconut oil along with aloe vera creates a mighty combination to repair damaged hair and produce thick hair growth. First, mix the aloe vera gel and water in a bowl, add the mixture to a spray bottle. Next, pour the coconut oil and your magic hair growth formula is complete. Simply spray the mixture after a shower to enjoy healthy hair.




10. Aloe Vera for Treating Acne
Pimples and skin inflammations are generally caused due to the production of excess sebum. When you don't clean your face in the right way, the sebum is stuck between the pores and dead skin causing irritation that leads to pimple formation. Aloe vera purifies your skin by removing impurities from deep within the skin pores.
Due to anti-inflammatory properties and the presence of glycoproteins, aloe vera can heal acne and its scars with regular topical application. One of the most effective home remedies for getting rid of acne is having:
1 tablespoon of natural aloe vera gel
Around 1 to 2 drops of freshly squeezed lemon juice
Simply mix the following ingredients together and gently massage all over your face. The lemon juice is acidic in nature and helps fade old scars, while the aloe vera ensures your skin is rejuvenated.
Aloe vera has seen a massive breakthrough in medical research, it's effectively used in radiation treatment for cancer. If there was a magical herb on earth that could cure anything, the answer is undoubtedly aloe vera.
You too can discover the astonishing ways of aloe vera by using these home remedies to cure all your hair, skin, and health problems.
Read here – 7 Best Essential Oils That Help Hair Growth Fast