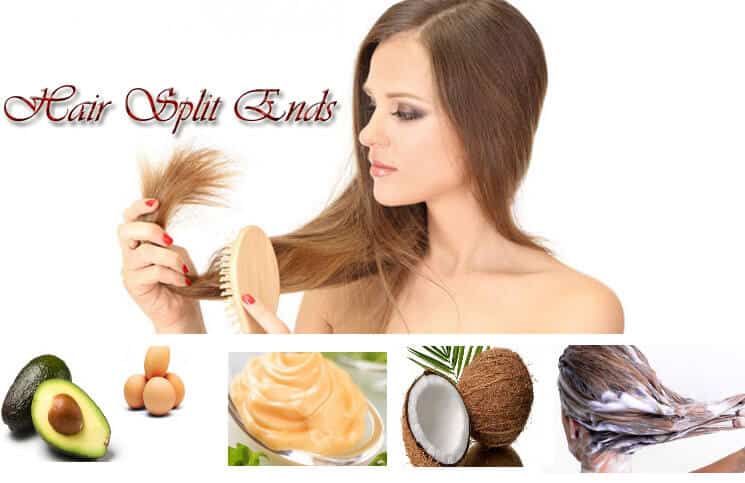 Why Snip off Your Hair Ends, When You Can Repair them with Simple Home Remedies?
Getting ready for a wedding or the biggest party of the year? Have you decided on your hairdo yet? But having the right hair accessories or hairstyles will simply not be enough when those ugly split ends start showing up. They are quite the menace in every woman's life. They have the secret key to ruin your latest hairstyles, streaks and highlights without any real effort at all. Spilt ends start creeping in when we become too busy to hit the salon for regular spas and trims. But once they do appear is cutting off the long locks your only option? Let us explore a few home remedies which will help you say goodbye to the nasty split ends in minimum time.
What are the main causes of split ends?
Over exposure of hair to the sun, pollution, dust and excessive chemicals while styling.
Using scalding hot water while washing your hair.
Using harsh shampoos or too much serum and styling gels too frequently.
Using hard water to wash your hair (water that contains too much chlorine will cause color to wash out and also cause the ends to split).
Lack of regular trimming and conditioning schedules.
Over use of heat, hair dryers, hair straightners or curlers can cause irreparable damage to your hair follicles.
Using the wrong kind of hair brush and comb can also accumulate damage to hair ends.
Teasing or back combing your hair regularly.
Using holding sprays or mousse on your hair and not washing them off properly.
Symptoms
Although very few people know, there are several kinds of hair splits and each has its own remedy. Trichoptilosis or the scientific name for split ends is generally the longitudinal splitting of hair fiber. These splits can be generic at the end of the hair, split occurring at the middle of the hair strand which appears as a loop, and repetitive splits occurring on the same strand. Here are common symptoms-
Hair with split ends tends to tangle more when you try to unknot it.
Check the end of your ponytail for discoloration.
The hair at the bottom of your ponytail has started to lose sheen and each fiber looks thinner than the rest.
Hair is of uneven length and zigzagged at the end.
Check for tiny Y shapes at the end of your hair.
Simply ask your hair stylist to have a look at your hair if you cannot decide.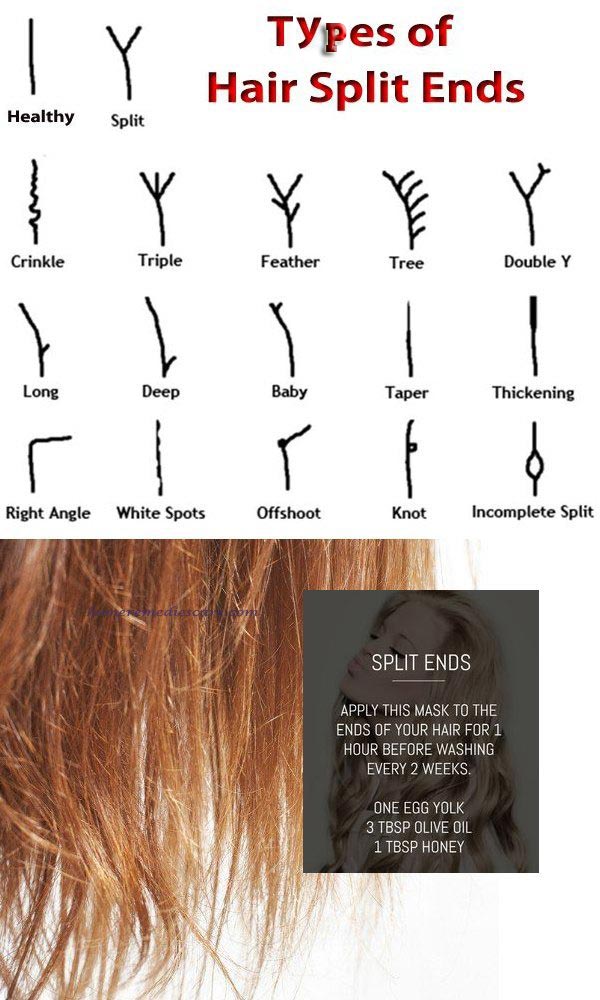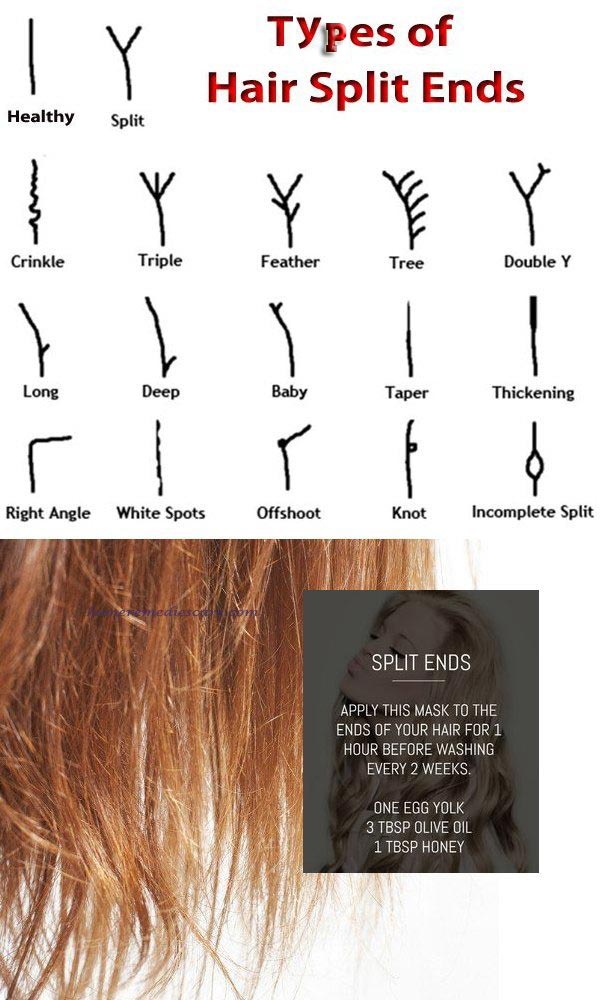 10 best home remedies to reduce the stealthy monster (split ends)
There are a few very easy home remedies for split ends. Not only will they remove the already accumulated ones, they will also prevent formation of any more split ends in the near future. Let us explore a few easy options to enjoy your healthy and gorgeous hair and get rid of split ends.
1. Use hair shears
Try avoiding paper scissors while cutting your hair at home. The edges of paper scissors cause your hair to fray and give way to more split ends. Hair shears on the other hand are sharper and remove split ends without any further damage to your hair.
2. Maintain a schedule
It is always easier if you make regular appointments with your hair stylist. But if that is not feasible then it is always better to set a reminder every month for a trim. Since our hair grows almost half an inch every month, trimming about 1/4th of an inch every month allows your hair to grow healthily without leaving any room for split ends. But it is to be noted that, fine hair gets more split ends and hence requires more frequent trims. People with thick hair strands may not require trimming their hair every month, even once in two months would suffice.
3. Egg mask
Eggs are a very important source of essential fatty acids and a huge number of proteins too, to using a pack/mask containing eggs will help you strengthen the roots as well as condition your hair to get rid of split ends. Throw some curd and you will see your hair become visibly smoother, untangled and healthier. You can also whish one egg yolk with 2-3 table spoons of olive oil and 1 tablespoon of honey for the ultimate conditioning hair mask. Leave it on for 20-30 mins and wash it off with a mild shampoo and cold water.
4. Hot oil conditioner
Hot oil conditioning is one of the oldest and most proven home remedies for split ends. To see wonderful transformations in very little time and using littlest amount of condiments possible one should try this treatment regularly.
Heat some olive oil or coconut oil or almond oil in the microwave for 15 seconds.
Make sure it is not scalding hot and massage it in gently on your scalp.
Leave it on for 45 minutes to an hour. For extremely dry hair one can leave it on overnight as well.
Wash it off with lukewarm water and mild shampoo.
Read here 7 Best Essential Oils That Help Hair Growth Fast
5. Papaya
Papaya is a good source of natural amino acids, anti-oxidants and tons of necessary vitamins. Now apply the goodness of the delicious fruit directly to your hair.
Take a ripe papaya and half a cup of natural yoghurt.
Blend them till the mixture is smooth and thick.
Apply to your hair and leave for 30 minutes before washing it off with cold water.
Shampoo.
6. Use mayonnaise
One of the most foolproof remedies for split ends, dry hair and dandruff . The egg nourishes your hair; the oil conditions it and leaves your hair feeling soft, healthy, and shiny. It is also one of the best natural straightening treatment that does not damage your hair.
Apply about half a cup of mayonnaise onto your towel dried hair (quantity depends upon hair length) and not just the roots.
Leave it on for 20-30 minutes.
Shampoo well in cold water.
7. Honey
The sweet condiment is as good for your hair as it is in your morning tea. It is a miracle treatment for stubborn split ends.
Mix some honey and curd till the paste is thick.
Apply to the ends of your hair.
Wash it off after 30 minutes or so with a mild, hair-friendly shampoo for lustrous, healthy hair.
8. Avocado
Avocado is a rich source of vitamins A, D and E which are all extremely important for the nourishment of your hair. It is filled with proteins and fatty acids which nourish and condition your hair better than the best conditioners found in the market today.
Mash a ripe avocado; add two tablespoons of olive oil and coconut oil till you achieve an emulsion like creamy state.
Apply all over your hair but do NOT apply to the roots.
Rinse it off after 30 minutes and shampoo.
9. Beer
Believe it or not, beer is a brilliant conditioner for your hair. Suitable for all kinds of hair one simply needs to rinse his or her hair with beer after shampooing to restore all lost gleam and sheen.
10. Bananas
Loaded with vitamins, essential minerals, they work wonders on split ends. Mash up a banana with two tablespoons of yogurt and a little lime juice. Apply this mask on your hair for an hour before washing it off with cold water.
All of these remedies are time tested and completely natural; however you might require monthly or weekly applications for completely get rid of stubborn split ends.
How to keep hair split ends away?
Use sun protection serums or simply a scarf/hat on the beach.
Wash hair in cold water whenever possible.
Use fine satin or cotton pillow cases to prevent harsh friction while you sleep.
Use mild shampoo and natural conditioners on a regular basis.
Deep condition on a regular basis.
Towel-dry your hair, but gently and avoid heat and chemicals whenever possible.