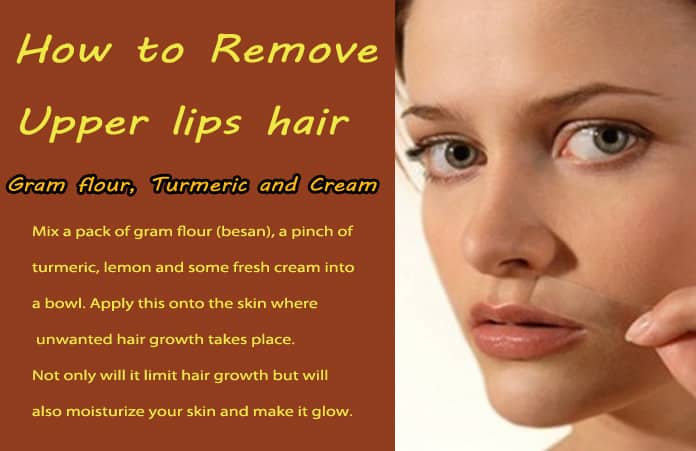 What is the best way to remove upper lip hair naturally at home? If you're noticing a few tufts of hair growing on the area above the lips, you better be running to a parlor. But if you're traveling or just don't have the time home remedies are an ideal solution. Upper lip hair can easily mar your smooth feminine features and can be quite annoying. Upper lip hair is a common though harmless problem which can drain a woman's self-esteem. Facial hair is undesirable and abnormal in women caused due to certain hormonal imbalance or a hereditary factor. Below are a few effective tips for home remedies that help to remove upper lip hair permanently at home –
1. White Sugar and Lemon
Such kitchen ingredients that are easily available can make effective hair removal solutions that contain extensive bleaching properties. While lemon is a known bleaching agent, sugar acts as a mild scrub. Squeeze one lemon to extract the juice, store in a bowl and mix a teaspoon of sugar in it. Rinse your face with water to remove makeup which ensures the paste doesn't mix with chemicals. Use the mixture on the upper lip area and massage it gently across the skin. After fifteen minutes, rinse the area. Repeat this for a week to see gradual decrease in hair growth.
2. Brown Sugar Waxing
You can use brown sugar, around 2 tablespoons and mix with a glass of water. In this add a little hint of lemon and heat the mixture on a medium flame. Ensure you are consistently stirring so that the mixture becomes thick. Apply the sugar wax on your upper lip area using a spatula. Press the wax using a cotton cloth firmly against the skin and wait for a minute. Pull the cloth off the skin against the direction of the hair growth.
3. Egg White & Turmeric
One of the healthiest home remedies to remove unwanted upper lip hair is an egg white mask that contains turmeric. Mix a tablespoon of turmeric in a bowl of beaten egg white and apply on the affected area. Let it sit for an hour after which you can peel off the mask and rinse with warm water. Apply this four times in a week to remove unwanted upper lip hair on your skin.
4. Turmeric and Milk
Turmeric is contains natural healing properties and is an adequate skin lightening ingredient that can be mixed with a cup of milk for a soft glow to your skin. A tablespoon of turmeric with a cup of milk mixed well into a paste is enough to reduce hair growth within a month's period. You can also use turmeric with cream or with water if your skin becomes irritable with milk.
5. Split Bengal Gram Flour (Chana Dal Flour)
Chana dal flour is one of the oldest recipes that can be mixed with water and a pinch of turmeric to form a paste. Apply this on the upper lip area and if you want, you can also add a tablespoon of cream to enhance hair removal effect. After fifteen minutes gently scrub the paste off your skin and rinse with warm water. Repeat this several times in a week to get rid of unwanted hair follicles.
6. Yogurt, Gram Flour and Turmeric
This remedy is effective for facial hair removal and can help get rid of upper lip darkness instantly. The remedy is generally applied by women who have an oily skin tone to avoid any form of rash. Mix two teaspoons of yogurt, turmeric powder and gram flour into a bowl. Apply the thick paste on the upper lip region and leave it to dry for at least fifteen minutes. Gently rub the paste off your skin and rinse with warm water to get instant glowing skin.
7. Hot & Cold Waxing
Wax can be heated at home in a container which can then be applied to the area above the lips with a spatula then quickly removed taking with it the unwanted hair. Depending on the cycle of hair growth, there will be no new hair growth for up to 4-6 weeks. Cold waxing is a much more painful process but is the same except the wax used isn't heated.
8. Threading and Tweezing
In case of threading, hair is twisted and spun using a thread and gently pulled off. This procedure is best done in a spa or salon but can also be done at home if you learn how to move the thread in a certain direction. Tweezers can also be used to pull the hair out however it is a very painful procedure.
9. Scissors
Using scissors is a simple way of removing unwanted hair however most women refrain from using this method for fear of scratching or hurting the skin. Since upper lip hair is fine and minute, it is a daunting task to remove them accordingly without actually accidentally pinching the skin.
10. Sugar & Chamomile Tea
Using four chamomile tea bags mix a boiled solution of the tea with sugar in a bowl. Ensure you use only half a cup of tea with two table spoons of sugar and two cups of sugar into this mixture. Heat the mixture till it boils and let it cool before application on the face. Using a Popsicle stick, apply the mix on your face and wax using a strip to remove facial hair.
11. Potato Juice
Another good bleaching agent is potato juice which can also be applied to remove upper lip hair. You can also rub potato slices over the upper lips and leave overnight. Do this daily for a week and you'll notice lesser hair growth.
12. Red Split Lentils (Masoor Dal Mix)
One of grandmother's recipes is the masoor dal mix which consists of mixing a tablespoon of masoor dal with milk in a bowl. Use the paste directly on your upper lip hair or on skin areas where unwanted hair growth takes place. Scrub off the skin once the face is dry and rinse with water.
13. Corn Flour and Milk
An easy to prepare mix at home is ½ teaspoon of corn flour and a cup of milk into a bowl. Stir to obtain consistency and apply the pack on your upper lip. Wait for 20 minutes and peel off the mask. Do this for a week to effectively reduce density of hair growth on your upper lip.
14. Lemon and Honey
A homemade remedy is using lemon juice and 40 ml of honey into a bowl that can be prepared into a mix. You can apply it in the direction of hair growth using a cotton swab, rinse after two minutes. Within two weeks notice you will find immediate improvement.
15. Gram flour, Turmeric and Cream
Mix a pack of gram flour (besan), a pinch of turmeric, lemon and some fresh cream into a bowl. Apply this onto the skin where unwanted hair growth takes place. Not only will it limit hair growth but will also moisturize your skin and make it glow.