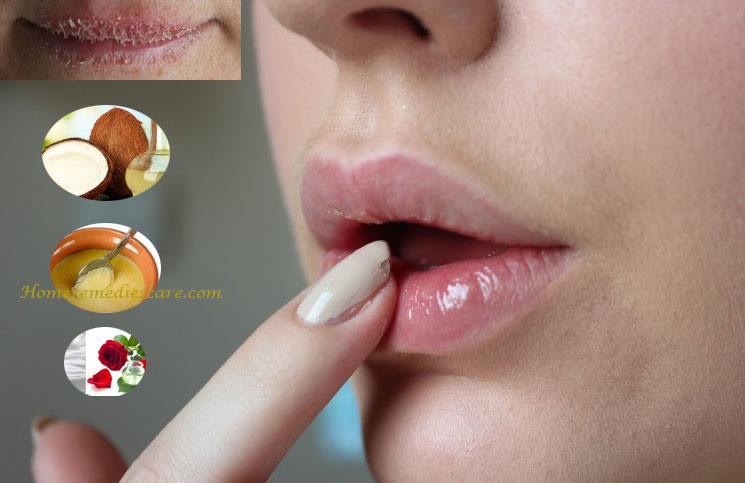 Lips are the most sensitive part of the body. Your lips are ever exposed to the harsh climatic conditions making it prone to getting dry and chapped. The problem gets worse in winter. Dry and cracked lips are ugly and are not good at all to look at. They are unattractive, painful and can be a potential sign of more serious problems. Dry and Chapped Lips are not just a result of cold and dry weather, they could be triggered by an array of things.
Common Cause for Chapped Lips
Diets that contribute to dry lips
Dry Weather
Allergic products
Licking your lips
Dehydration
Citrus and Cinnamates
Symptoms
Dryness
Scales
Cracks
Bleeding
Sores
Flaking
Effective and Natural Homemade Remedies for Cracked Lips
To do away with all this, you should use any of these 14 home remedies for dry and chapped lips. They are all-natural and have no negative side effects.
Milk Cream
The milk cream is a natural lips moisturizer and should be used daily for best results. Before applying another layer, wash off the old one with warm water. It is a perfect remedy in severe cases.
Rose Petals
It is important to note that rose petals are also a great resource for your dry and chapped lips. Make sure that the petals are clean before use then soak them in milk for some time. They form a thick paste, which you will apply on your lips every night before going to bed. Wash the paste off in the morning with warm water.
Luke Warm Ghee
Make sure that is Luke warm and not hot before use. Apply it on your lips during the day and at night too. It will get rid of the dry cells within no time.
Aloe Vera Gel
Aloe Vera has many healing properties among them dry and chapped lips. It is applied on the affected area to relieve the problem and the pain too. You will have to get used to the taste since it quite unpleasant.
Brown Sugar
Mix a half of a cup of this type of sugar with almond or olive oil. Apply it during the day and at night for the best results. Use it till you see the desired results.
Sugar
It is a natural softener and gets rid of the dead dry cells to restore their natural smoothness. It works best when mixed with honey and then smear the paste on your lips. Using your finger, gently rub the paste on the lips for a few seconds and then wash it off with warm water.
Cucumber
This is a simple and natural remedy. You can choose to use either cucumber juice or a raw fruit slice. Gently apply or place them on your lips, it makes them soft after a while. Repeat this several times in the day for best results.
Coconut Oil
his is another natural moisturizer. It best works on lips that have dried up due to the cold and dry weather. Do not mix the coconut oil with anything else. Apply the pure oil on your lips during the day in order to keep them moist.
Petroleum Jelly
You can easily and cheaply find it in all retail stores. Simply smear it on your lips and add more whenever you feel the lips are drying up. Apply a thin layer of honey before applying the petroleum jelly. This makes it last longer and especially at night when you will not be able to wake up to reapply.
Honey
Honey is a natural moisturizer. In addition to that, it is an antibacterial hence it prevents your lips from getting any bacterial infections. Just apply it on the lips several times a day and leave it for some time. If it is too thick, you can mix it with glycerin for best results.
Castor Oil
It is important to remember that castor oil is used during the day to make sure your lips are always glossy with this oil for best results. If you like, you can mix it with a bit of lemon juice or glycerin and apply before going to bed. These two additives makes it stick on your lips all night long. Clean it off in the morning with cotton and warm water.
Glycerin
Pure glycerin is also a perfect remedy for dry and chapped lips. You can mix the glycerin with honey or rose petal for best and quick results. Do not use perfumed glycerin as it can make your lips itchy.
Mustard Oil
Make sure that it is warm before use for best results. It works best when applied to the navel. Use it for several days continuously for best results.
Helpful Tips
If you suffer from dry lips, it means your body is dehydrated. You should therefore drink a lot of water to hydrate. Make sure you drink eight glasses of water every day and you will surely note the difference.